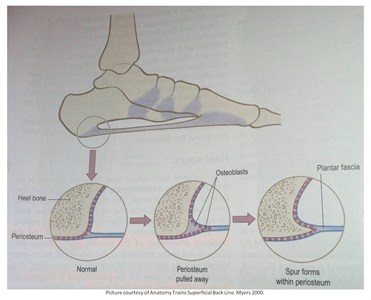 Overview
A heel spur (or osteophyte) is a small
bony
growth or collection of
bony
growths on the back or underside of the heel. They may or may not cause pain, and patients often confuse heel spurs with a related condition known as plantar fasciitis, inflammation of the band of tissue that stretches from the ball of the foot to the heel, forming the arch. Many people have bone spurs without ever knowing it, and about 70 percent of patients with plantar fasciitis who do have discomfort will also be found to have a heel spur when observed via
X-ray
. It is likely that a bone spur forms as the body tries to repair itself from repeated injury by laying down extra bone at the site of trauma. Plantar fasciitis is typically another result of such trauma. Heel spurs are most often seen in middle-aged men and women, but can be found in all age groups.
Causes
A strong band of sinew (plantar fascia) stretches across the
sole
of the foot below the
surface
of the skin and is attached to a point in the middle of the under
surface
of the heel bone. With repeated activity on our feet, the plantar fascia can become tight and cause persistent traction (tugging) on its attachment point into the heel bone, and inflammation and pain may develop at this site. This painful condition is known as plantar fasciitis. Sometimes a ?spur? develops at the site of this traction on the bone and protrudes into the surrounding tissue. This is a heel spur.
Symptoms
Most heel spurs cause no symptoms and may go undetected for years. If they cause no pain or discomfort, they require no treatment. Occasionally, a bone spur will break off from the larger bone, becoming a ?loose body?, floating in a joint or embedding itself in the lining of the joint. This can cause pain and intermittent locking of the joint. In the case of heel spurs,
sharp
pain and discomfort is felt on the bottom of the foot or heel.
Diagnosis
Your doctor, when diagnosing and treating this condition will need an
x-ray
and sometimes a gait analysis to ascertain the exact cause of this condition. If you have pain in the bottom of your foot and you do not have diabetes or a vascular problem, some of the over-the-counter anti-inflammatory products such as Advil or Ibuprofin are helpful in eradicating the pain. Pain creams, such as Neuro-eze, BioFreeze & Boswella Cream can help to relieve pain and help increase circulation.
Non Surgical Treatment
Common and effective treatments for Heel Spurs include: Stretching exercises, changing to specific shoes, taping or strapping to rest stressed muscles and tendons, custom orthotic devices and physiotherapy. There are many things you can do to treat heel spurs. You should stretch the muscles and ligaments around the area regularly and ensure you are wearing the right footwear for your feet. There are also tapes and straps that you can apply to the muscles and tendons around the area. For more severe cases, custom orthotics may be the way to go along with aggressive physiotherapy. To treat the pain, over the counter NSAIDs (anti-inflammatory medications) is recommended, but use with caution as prolonged use can lead to the development of ulcers. It is therefore best to apply a topical treatment such as Zax?s Original Heelspur Cream, which contains natural ingredients proven to reduce pain and inflammation. More severe forms of the condition may require corticosteroid injections or surgical procedures, but these are very rare cases. Still, should pain become worse and persist, you should consult with your doctor.
Surgical Treatment
Most studies indicate that 95% of those afflicted with heel spurs are able to relieve their heel pain with nonsurgical treatments. If you are one of the few people whose symptoms don?t improve with other treatments, your doctor may recommend plantar fascia release surgery. Plantar fascia release involves cutting part of the plantar fascia ligament in order to release the tension and relieve the inflammation of the ligament. Sometimes the bone spur is also removed, if there is a large spur (remember that the bone spur is rarely a cause of pain. Overall, the success rate of surgical release is 70 to 90 percent in patients with heel spurs. One should always be sure to understand all the risks associated with any surgery they are considering.